5 August 1999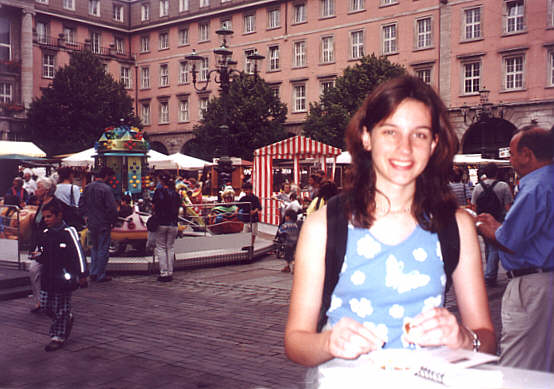 We got off a little late again and went into Elberfeld to buy our train tickets to Salzburg. We chose a line served by someone with a helpful-looking face. And we were there nearly an hour while a friendly Frau Greßler worked through our plan on her computer terminal. After that, we stopped for a quick horsemeat sausage lunch, a couple of stores, and took the bus up to Tante Ilse's house.

At Tante Ilse's, we had a bit of fruit, and then we were off again. She took us to Herzkamp, where the Prigges live, and where the ancestral Mühlinghaus homes remain to this day. On the way, we tried to find Markland, but it was very difficult to get to, through the winding streets and apartments that had been built since its heyday as a large farm. We went on to the cemetery at Herzkamp where Omi is buried. We left flowers on her grave.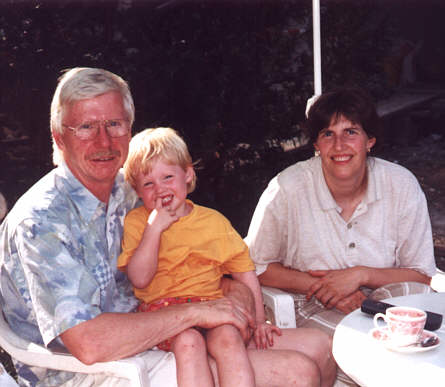 A short drive from the Herzkamp cemetery took us to Ochsenkamp, where Klaus and Rosemarie Prigge live. They were waiting for us there with their daughter. Klaus' mother was still in the hospital, recovering from gall bladder surgery. After an afternoon coffee and cake on the driveway to their home, Klaus took us on a tour of their house, under construction. Construction techniques are quite different in Germany, and it was difficult to understand some of the reasons for the differences. About a half-hour early, Otto and Klara Sonnenschein showed up, and we five sat and talked for an hour.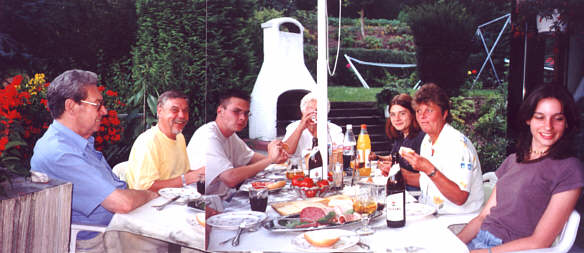 Then they drove us to his son Manfred's house, where we met his wife Brigitte, and their kids Benjamin and Anna. Anna had just gotten over a sore throat. We had sandwiches and beer for the evening meal, and sat around the table for a couple of hours, while the kids took off for a drive. Benjamin drove Laura and Anna in his beautifully-restored purple 1967 VW Beetle to three historical towers, the Toellerturm, Bismarkturm and the Elberfeldturm. They also went to old Elberfeld and the Botanical Gardens. It was a lot of fun, Then after returning, the Sonnenscheins drove us back to Michael's.