30 July 1999



Because it was so warm, we left the upper window open overnight. That made for a couple of awakenings for us both in an otherwise solid sleep.

Once dressed and ready for the day, we walked downstairs for the hotel breakfast. First a cereal bowl, while they prepared our egg, sausage, bacon, beans and hot peeled tomato plate. We were probably the only Americans at breakfast, amid the Scots, Brits, Germans and others. The cereal was interesting. The sausage was… edible.

After breakfast, we bought our tickets for the Big Bus. Our ride on the Blue Line was short, but informative. We learned that Hyde Park was Henry VIII's private hunting grounds, and had since been converted into a park for the people of England. At the northeast corner is a Marble Arch that used to be be where the west wing of Buckingham Palace is now. Our bus driver, Mark, told us that Queen Victoria did not like the arch and asked that it be removed. They would not. So the queen designed a carriage too wide to fit through the arch, had it built and - the arch had to be moved.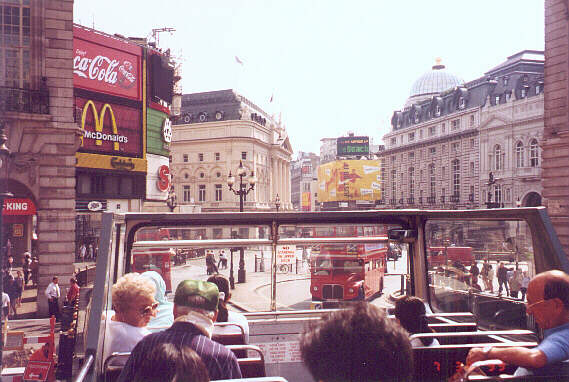 We switched to the Big Bus Red Line, and sat atop the double-decker open bus. It drove us past various embassies, including one for Texas.

We rode through Piccadilly Circus and Trafalgar Square. We saw many old churches and statues, including a quick view of a statue of Elizabeth I, made in her lifetime.

We left the bus at St. Paul's Cathedral, but first had a quick refresher with Snapple, Coke… and a scone.

St. Paul's Cathedral is huge, and full of statues and memorials, mostly of heroes of wars and skirmishes, won and lost. It amazed us that so much history is referenced there, firsthand. We spent nearly 2 hours in awe of the splendor and history that oozed from every wall.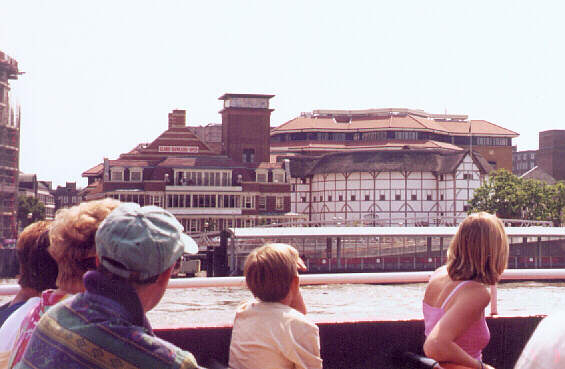 We hopped back onto the Big Bus and took it across the Thames, to the London Dungeon. Not stopping there, we walked west along the river's edge, past the Golden Hinde, to the Globe Theatre. Having found the theatre and cooling down with some ice cream, we enquired about tickets for the 2pm performance of Anthony and Cleopatra. No seats were available - only 120 standing spaces in front of the stage. For a 3-hour performance. Realizing that we wouldn't last that long in the heat, we returned toward our bus. On the way, we passed a very busy pub, the second oldest private structure on the Thames, where Shakespeare often visited and where the Globe players would change costumes.

We had American pizza for lunch, at the Pizza Express, just one block west of the London Bridge. It was strange to think of the original London Bridge in Arizona, while looking at the current modern structure in its place.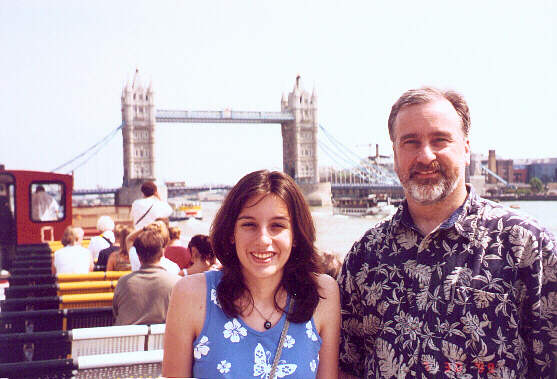 We got back on the bus and took it to the Tower of London, across Tower Bridge. We quickly walked around the tower to the docks, and awaited our boat, for a trip down the Thames.

We sat atop the boat and watched, as we floated by so much British history. It was simply astounding. Tower Bridge. The Globe Theatre. Scores of old homes and estates. Cleopatra's Needle. The Millennium Ferris Wheel, called the London Eye. Finally, Parliament and Big Ben!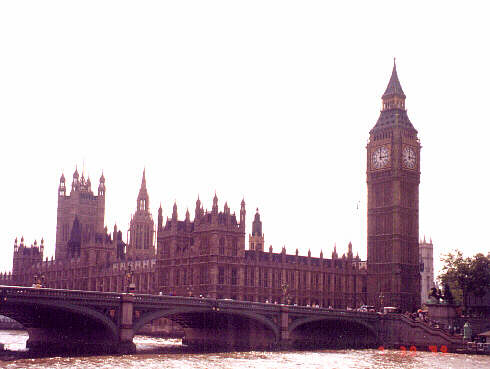 Right there at Big Ben, we got back onto the bus and rode past Buckingham Palace. After a quick stop at a couple of souvenir shops, we found ourselves at Victoria Station. Only one day in London, and we were already getting our bearings. We popped back into the Tube, and we were off to the big shopping district at Covent Garden, a pedestrian mall and market area.

We rushed through the streets crowded with people, street merchants and musicians peddling their own homemade CDs. Laura quickly found the Dr. Marten building and purchased her own pair of "Doc Martens" - they look a lot like standard-issue army boots.

Another tube ride back to Paddington Station took us back to our hotel, where we unloaded our purchases.

We had dinner at a Spanish place on Spring, where we enjoyed their kebabs. Laura went back to the hotel while I went back to the A1 Internet Café, checking for word on the closing of our home in Garland. Then upon my return, knowing that we had a full day on Saturday, we packed in preparation of Sunday's departure to Germany.