8 August 1999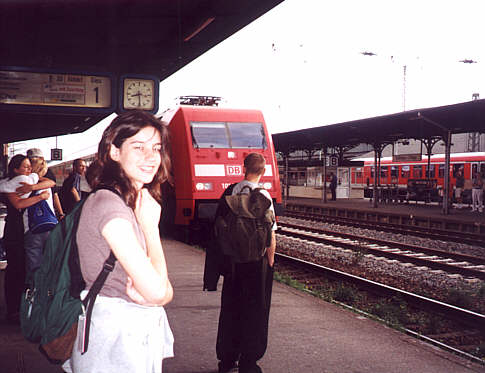 We got up at 6am, got ready, ate a quick breakfast in the kitchen and headed out. We took our bags and caught the 7:34 bus to the train station, and then the 7:52 train to Solingen-Ohligs, where we changed trains and went on. One of our more impressive stops was Köln. The huge cathedral was easily visible from the train, and the view was magnificent.

The train ride down the Rhine was most memorable. Beneath the steep vineyard-lined hills flowed the Rhine, as castles dotted the horizon on every fifth mountain. It was beautiful, and over much too quickly.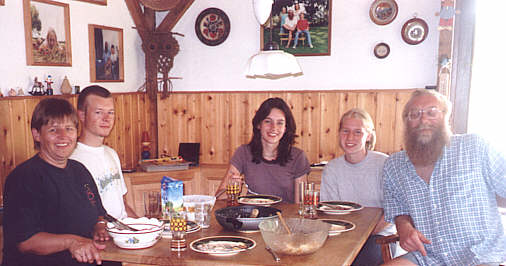 At the train station in Mannheim, we immediately saw Dieter and Stephanie waiting for us. After a quick meeting, he drove us out of Mannheim, over to their home in Seckenheim. At their home, Monika and Christian were waiting for us. After some time talking, we ate a delicious Mittagessen--noodles, braten, french fries and a tasty cauliflower pot.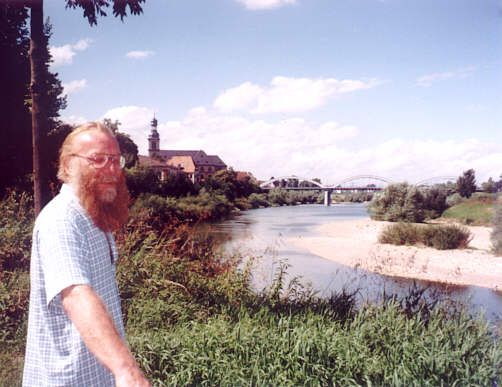 After lunch, Dieter and I rode bicycles to their garden - a beautiful little plot with a little of everything--and all natural. They grow everything themselves, make everything themselves... and do it well. We picked a few tomatos and apples, and rode a bit along the Nekkar river, just far enough to pass the bridge and view the ancient village of Ladenburg.

From there, we rode further to Landshuterstrasse, to see Tante Erna, Ekkehard and young Lukas. A bit later when Dieter rode back to pick up our photos, he brought Laura back by bicycle, also showing her the garden. We stayed for a little while longer, and then rode the bikes back, just in time to say goodbye to Christian, just then leaving for France.

That afternoon we found out just how much a Beatles fan our cousin Dieter is. He has every Beatles release imaginable--and more! A bit later, Monika got home, and we ate Abendbrot on their vine-canopied patio.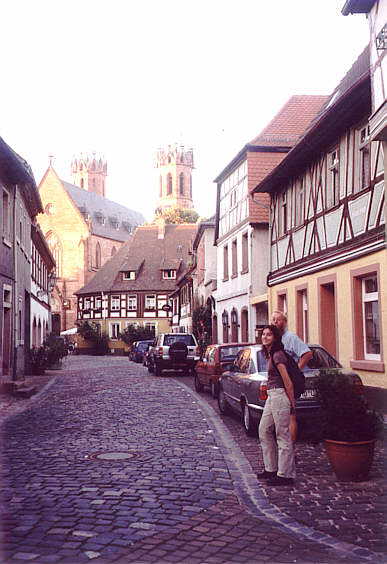 After eating, we headed out for Ladenburg, a quaint little town on the Nekkar with ancient Roman roots. It had celebrated its 1900th anniversary in the last year. We parked the car near Karl Benz' house, and walked around Ladenburg for a couple of hours, in awe of the ancient walls from Roman times and the middle ages, replicas of Roman statues and plaques, and scores of buildings from the 16th century and earlier.

A bit of ice cream, a short seat for the sunset at the Nekkar, and we were back home at Dieter and Monika's.