3 August 1999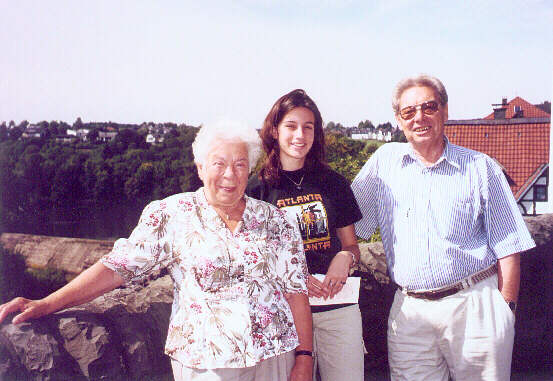 A bit of a slow start this morning, a bit of laundry, and at 10:30, Otto and Klara Sonnenschein picked us up. He drove us the long way around town, through the little town of Beyenburg. It was a beautiful sunny day again, but just a bit cooler than the last few days. We strolled around a bit and went into the centuries-old church there.

When we got to the Sonnenschein's, he took us on a tour of their yard, and we sat outside and talked. Klara had prepared a delicious meal of peppers sour cram and various other spices. And for dessert - a wonderful kiwifruit and gooseberries blend with a cream sauce! We talked about the family, our new house being built, our trip, the upcoming eclipse, etc. Then after the tour of the house, Jürgen Autschbach picked us up and drove us to Haan.

At the Autschbach's, we sat down and talked again about family, trip, house, and looked through family photos. Laura and Kim went with a friend to go take care of her horse, Sylvester. Sylvester is a 6 year-old palomino horse. Kim let Laura ride him. Kim prefers caring for the horse, over riding him. They talked a lot and found they had a lot in common. Kim is coming to the USA as an exchange student to Ohio, and she may be able to visit Dallas over Christmas vacation.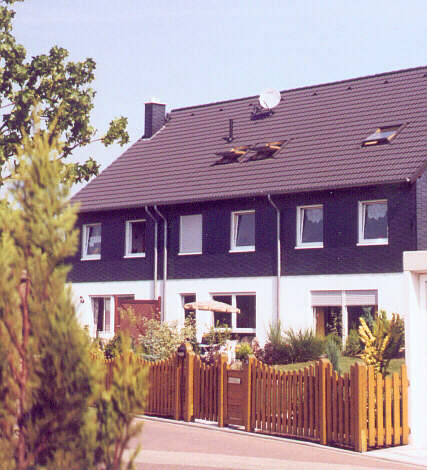 When Kim and Laura got back, we had pizza from the neighborhood pizzeria. Shortly after, the girls left for an evening out in Haan - to experience the night life. A little more time at the house, and Jürgen drove dad back to the Heimlich's.

In Haan, all that are open on Tuesday nights are pubs. So Kim, Jasmine, Daniel, and Laura stopped at a medium-sized pub where they met Danielle and Anya. Kim was very nice to translate for Laura when they were speaking German. She speaks English very well.

Later that night, they went to a second pub and upon leaving, walked the two miles home at 11:30pm, safely… very different from the US. The rest of the night they listened to CDs, watched TV and talked a lot.