Hiking Guadalupe Peak
October 1998

The striking cliff face on the very front is called "El Capitan". Behind it, a little to the left, the higher Guadalupe Peak is hidden in the clouds in this photo. At 8,749 feet (2667m), it is the highest point in Texas. We hiked up the east side, where there is a gradual ascent from the desert floor.
---
Note 1: This page is optimized for 1024x768 resolution.
Even at 800x600, there is some overlap with pictures and text.
Sorry if it causes a problem.
Note 2: This page contains 860KB of graphics.
Please be patient as it loads.
---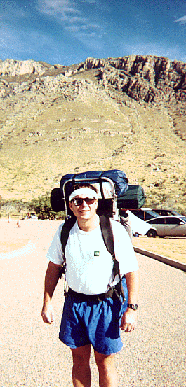 The base campground lies in the Texas desert, just south of Carlsbad, New Mexico, at an elevation of 5,734 feet (1748m). We left at mid-morning, after a tasty breakfast of whole wheat pancakes. Scott (a.k.a. "Hiking Machine") is pictured here in front of one of the many striking rock faces. The one behind Scott is much lower than our goal - the Guadalupe Peak.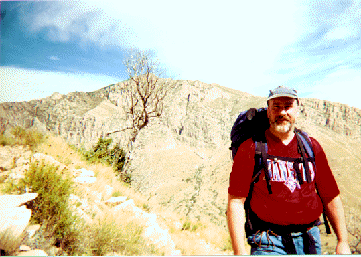 Ralph started out slowly, but after some adjustments to the pack , got moving reasonably well. We fit in a quick lunch before the trail got difficult, getting past the cliffs.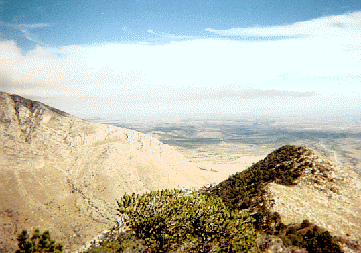 More than halfway to the top, we'd look back to see how high we'd climbed. The plains stretched forever eastward.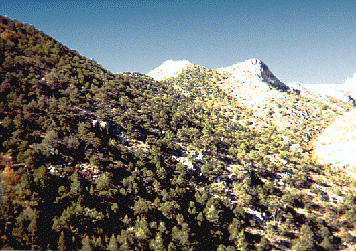 After hours of climbing into the desert mountain, we rounded a ridge and found ourselves in a pine forest. Lush and verdant, the mountain was green from moisture it had captured at the higher altitude.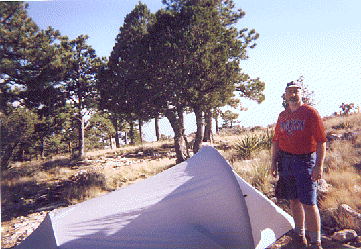 At 8,000 feet, we found the campsite. Of the 4 pads, we chose one and set camp. And talked with fellow campers. And rested a bit.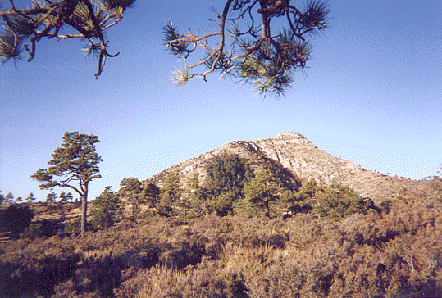 Looking up at the peak from camp, it still looked far away. We were about 700 feet below it. Fellow campers said it was about another hour to the top.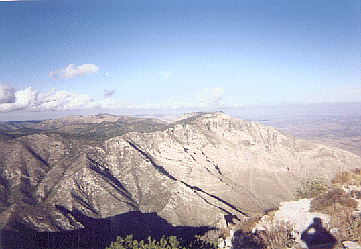 The view from the camp area was breathtaking. Shadows lengthened as the sun angled lower into the west.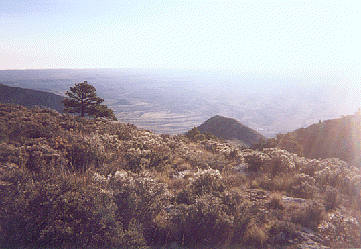 The plains were even farther below. The cinder cone that Ralph thought was so high was just a little bump on the flat desert floor.


So we left our packs at camp, and hiked for another hour or so. Even though we were travelling lighter, the air was thinner, and we were getting pretty wiped out. Push a little harder. Just a bit farther. And...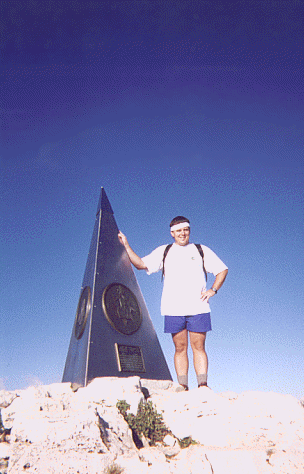 Suddenly, we found ourselves at the peak!
The highest point in Texas.
Nothing higher in sight.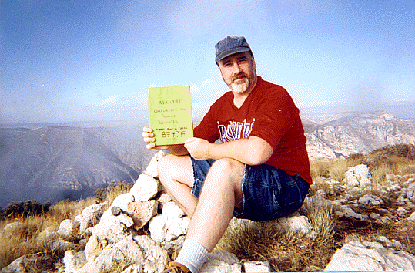 We posed for pictures.
We signed the register.
We called home.
We looked all around
in awe!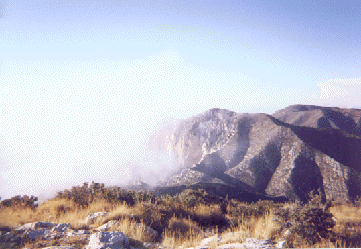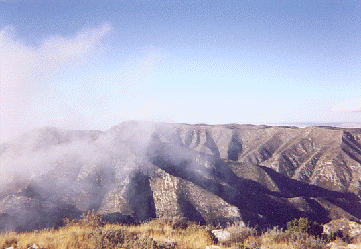 Guadalupe Mountains National Park Home Page
---
Send Mail to Ralph
Send Mail to Scott